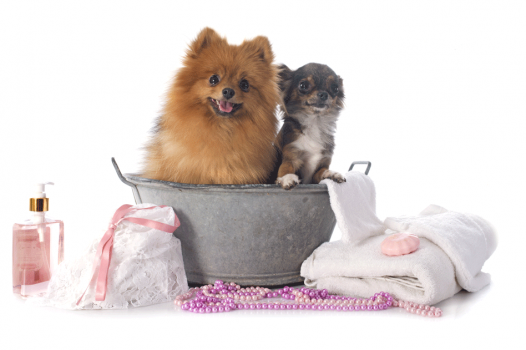 Regular grooming encourages healthy skin and coat, and can help your pet look and feel better. Professionally grooming your pet also helps with parasite detection; detecting and eliminating fleas and ticks, as well as helps ensure skin allergies and infections are detected and treated promptly.

Routine ear care and nail trimming are important to maintain the overall health of your pet. Keeping the ear canal free of hair and debris allows for proper air flow and reduces smelly build-up that can lead to irritation/infection if not detected early on. Regularly trimming the nails helps reduce stress on joints and promotes a healthy range of motion for their legs. This is why an ear check/cleaning and nail trim are included in every bath pkg here at Silver Heights Vet Hosp.
Grooming is available Tuesday's, Wednesday's and Saturday's, by appointment basis.

Basic Bath pkg:
Nail trim, ear check (pluck & clean if necessary), bath using products suited to your pets individual needs, high-velocity dry, 15mins brush-out.
Bath & Tidy pkg:
Everything included with Basic Bath; plus trimming around the face including eyes, ears, and muzzle, pad shave and trim feet, as well as a sanitary clean-up.
Bath & Deshed pkg:
Everything included with Basic Bath; plus a deep condition to help promote the hair to release dead undercoat, a full hand dry with a high velocity dryer, with an extra 30 minutes of brushing out.
Bath & Full Haircut pkg:
Everything included with Basic Bath, as well as an all over haircut with the pattern being discussed upon dropping off your pet. We can offer a variety of pet cuts and breed specific trims, suited to your pet's individual needs.
**Proof of vaccinations is required prior to grooming**
Dog Pricing:
| | | | | |
| --- | --- | --- | --- | --- |
| Pricing | Full Groom | Double Coat Deshed | Non-Shedding Bath and Tidy | Bath Only (add nails $5) |
| Small Dog | $61+ | $45-50+ | $45+ | $35+ |
| Medium Size Dog | $71+ | $50-60+ | $55+ | $45+ |
| Large Size Dog | $86+ | $70-80+ | $65+ | $55+ |
| Extra Large Size Dog | $96+ | $85-95+ | $75+ | $65+ |
| Giant | $116 + | $110+ | $95+ | $85+ |
Cat Pricing:

Pricing

Brush out

Bath

Bath & Hair Trim

Lion Cut

15 mins

$20 – 15 min
$35 – 30 min

$45

$75

$65+
Add On Services:
| | |
| --- | --- |
| Blueberry Facial | $5 |
| Gland Expression | $30 |
| 2 Step Dental ( Brush & Spray) | $10 |
| Paw Pad Treatment | $5 |
| Full Pawdicure | $15 |
| Face/Feet/Sanitary Trim | $5-10 |
| Dematting | $1/min |
| Brushout/Deshed | $1/min |
| Smelly Pet Treatment (2-3 baths) | $20 |