Our caring and compassionate veterinary care team!
Meet the Veterinarians & Team of Silver Heights Veterinary Hospital in Winnipeg! We're pleased to provide exceptional vet care for your pets!
Please call us at 204-504-5600 to speak to one of our caring veterinary staff members!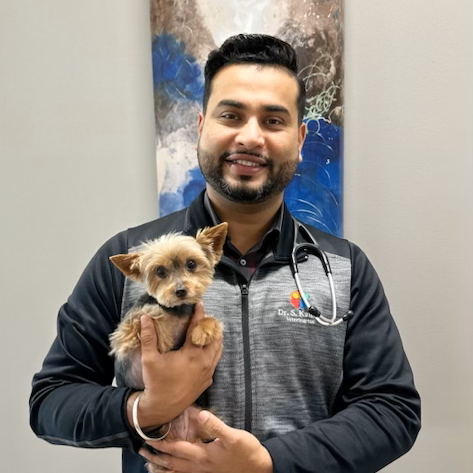 Supreet Kahlon
D.V.M.
Dr. Kahlon is Silver Height's primary veterinarian. Dr. Kahlon graduated in 2008 from College of Veterinary Medicine at PAU in India. He immigrated to Canada in 2010, and completed the required examinations. In 2012, he started practicing at Stonewall Animal Hospital. He has a special interest in both soft tissue and orthopedic surgery. Dr, Kahlon is passionate about continuing education as, he likes to keep up to date on new techniques as veterinary medicine is always evolving and he puts his best effort in starting up and running Silver Heights Veterinary Hospital. In his spare time he likes to go to the gym and spend time with his wife and their son and Dog JETS. Jets is a Yorkshire terrier that keeps the entire family in check.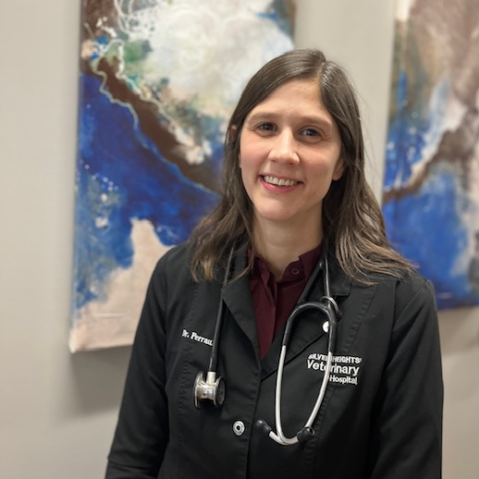 Dr. Raissa Perrault
D.V.M.
Dr Perrault joined the Silver Heights veterinary team full time in March of 2021. Dr Perrault has spent many years honing her skills and education, first completing a Bachelor of Science in Biochemistry at the University of Ottawa and a Master's of Science in Cardiovascular medicine at the University of Manitoba. She worked several years doing clinical studies at the Asper Clinical Research institute and teaching courses at the Université de St Boniface, before heading to the Western College of Veterinary Medicine to complete her Doctor of Veterinary Medicine. Her areas of interest include internal and emergency medicine, and she recently has taken a special interest in dentistry and analgesia.
In her spare time, Dr Perrault likes to travel, eat and read. She also enjoys perusing the literature for the latest research and writing scientific papers. She lives with 3 dogs that keep her very busy- one Belgian malanois, one Dutch malanois and one border collie. She also brings in foster dogs and volunteers with rescues whenever possible
Come on in and meet Dr Perrault today!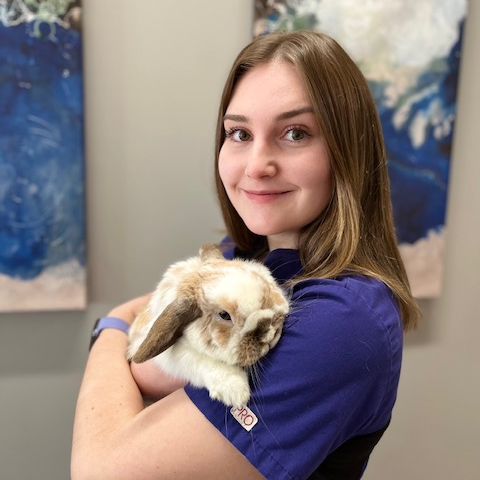 Amy
Registered Veterinary Technician
Amy graduated from Red River College in 2020 with her Veterinary Technician diploma. She started working at Silver Heights Veterinary Hospital shortly after in 2021. Amy's favourite thing about working in veterinary medicine is the excitement of never knowing what the day will bring. In particular, Amy has a passion for ensuring her patients 'comfort and finds it very rewarding when an in hospital patient is healed and can return home!
Outside of work, Amy enjoys spending time at the local animal shelters taking dogs out for doggie dates to the park. She loves binging reality TV shows cuddled up with her two rabbits Tucker and Penelope.
Kara
Registered Veterinary Technician
Kara studied at Red River College and graduated with The Veterinary Technician Diploma in 2015. She has loved animals all her life and has always wanted to be in the field, her special interest lies with nutrition in pets. She loves meeting new clients and their pets and would be happy to answer any question you may have!
Kara has a Finnish Lapphund named Loyal. She has done confirmation, herding, agility and obedience training with her dogs. In her spare time she loves to spend time with her friends and cuddle her pup!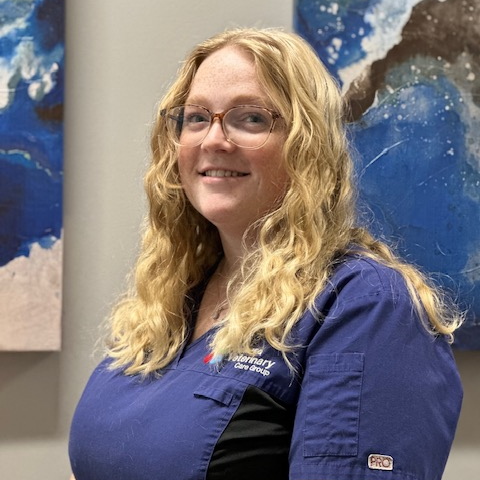 Tonya
Registered Veterinary Technician
Tonya graduated from the Red River College Animal Health Technology Program in 2015 and has worked in companion animal practice since. She has always had a passion for both animals and the medical field, so a career as an RVT was the perfect combination. Tonya has a special interest in nutrition and enjoys helping owner find the right diet for their pets.
Outside of work she enjoys crocheting, being outdoors, volunteering with wildlife and spending time with her two cats, Cas and Loki.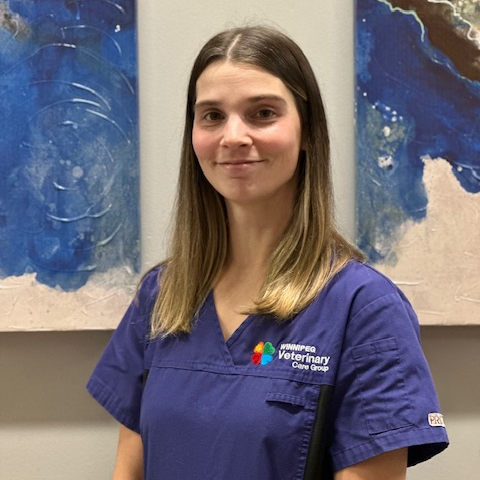 Gina
Registered Veterinary Technician
Gina graduated with honors from the Veterinary Technology program at Red River College in 2009. She has been working within the Veterinary Industry since that time, in private practice as well as taking a special interest in Transfusion Medicine working alongside the Canadian Animal Blood Bank for several years.
Gina is motivated by her senior greyhound, Luna, to learn about physical rehabilitation medicine and wants to continue her education by earning her CCRT (Certified Canine Rehabilitation Technician) in the near future.
When not filling her time helping her patients, Gina enjoys spending time with her family, travelling, and exploring the outdoors.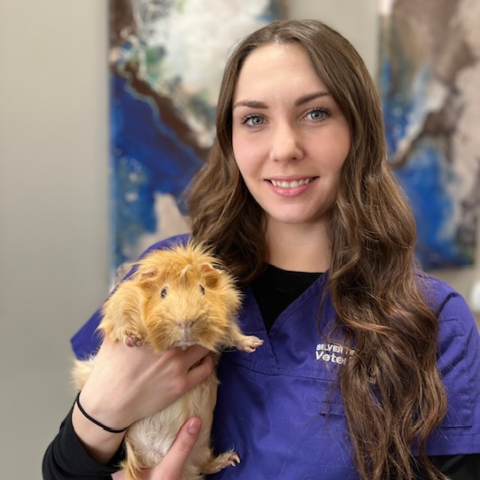 Kiana
Veterinary Assistant
Kiana graduated with honors from the Veterinary Office Assistant program at Robertson College in 2015. Kiana worked as a receptionist for many years once graduated. She has always had a passion to work with animals and loves talking to clients. She enjoys educating and making everyone feel welcome! Kiana of course loves interacting with their beloved pets and wants to make their experience at the vet a great one! Kiana now spends most of her time in the treatment area where she cares for all the patients that come into the clinic. In her spare time she loves spending time with family and friends and of course her dog Malik and guinea pig Mowgli!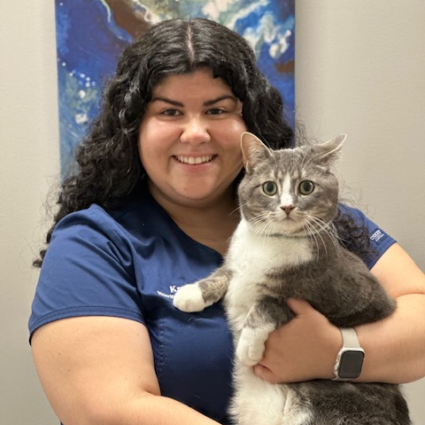 Krystalee
Veterinary Assistant
Krystalee graduated with honours from the Veterinary Assistant program at Robertson College in 2022, where she started working at Silver Heights Veterinary Hospital shortly after. She has always wanted to be involved with animals since a little girl and being surrounded by pets all her life pushed her to pursue a career with animals. Krystalee spends most of her time in the treatment area where she plays a crucial role with day to day operations such as animal handling and restraining abilities. She is also responsible for relieving the receptionists' duties if need be. Krystalee would love to become an RVT and is currently working towards making that happen.
Outside the clinic you can find her being outdoors, travelling with her cat or volunteering at a local animal shelter. At the end of the day Krystalee loves snuggling up with her cat, Zeus and binge watch reality TV shows.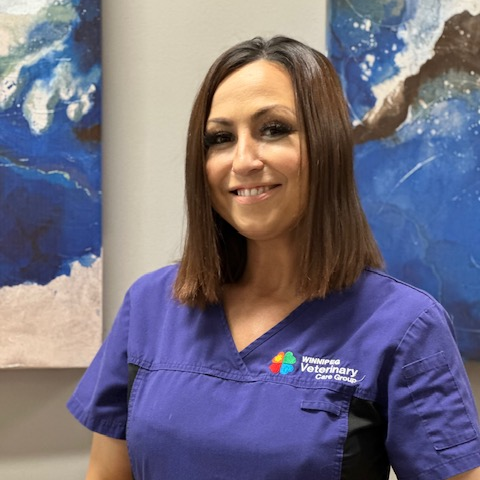 Cassie Jo
Reception
Cassie-jo has always had a love for animals; taking pride working in a veterinary setting where she started at Silver Heights Veterinary February 2023. Her favorite part about coming to work is helping animals & her team. Always excited to meet new patients. Her passion started at a young age visiting her Grandma's farm, always having the pleasure growing up with dogs & cats as well. She experienced 2 years in Animal Rescue where she was privileged enough to adopt 2 kittens where she spends most of her joyous time with her fur babies at home with her now...6 cats. One of the most rewarding aspects of her job is seeing the positive impact that Silver Height's treatment has on the lives of our patients and their families.